According to Wikipedia, Cadillac is an American luxury vehicle marque owned by General Motors (GM). Among the oldest automobile brands in the world, the Cadillac is currently the second oldest American automobile manufacturer behind fellow GM marque Buick. (However, depending on how you're measuring when the vehicle company was founded, Cadillac could arguably be older than Buick.)
Cadillac was founded in 1902 by Henry Leland, a mechanic and entrepreneur, who named the company after his ancestor, Antoine Laumet de La Mothe, sieur de Cadillac, the founder of the city of Detroit. The company's logo is actually a crest based on a coat of arms that Antoine de la Mothe Cadillac had created at the time of his marriage in Quebec in 1687.
Cadillac is the first American car to win the esteemed Dewar Trophy from the Royal Automobile Club of England, it won this achievement by demonstrating the interchangeability of its component parts during a reliability test in 1908. This display generated the luxury vehicle's slogan "Standard of the World." It also won that trophy in 1912 for incorporating electric starting and lighting into a production automobile (yeah, really, that's how old this company is).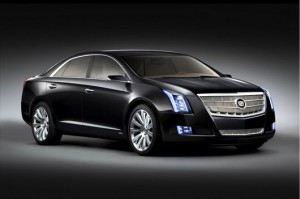 All this being said, there is no debating the fact that your Cadillac is a luxury vehicle, and as such, you should get top dollar when you sell it. If you're thinking,"I want to sell my Cadillac for cash," vOffer.com should be your top choice. vOffer is the number one place to sell a used car in Dallas, and we guarantee that we will pay you the highest amount, in cash, for your Cadillac.
We specialize in purchasing luxury vehicles, and your Cadillac is no exception (you can probably tell by the above history that we know just a bit about cars). We will take the time to examine your vehicle and give you the highest cash offer possible. We even have a $250 cash offer guarantee. So if by some miniscule chance some other car dealer offers you more than we offer, we will match that offer PLUS give you $250.
Contact us now and let us buy your Cadillac for cash today!