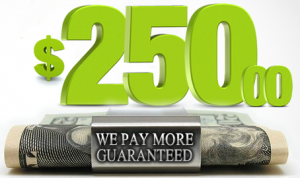 At vOffer.com we always get a lot of questions about our Best Offer Guarantee Policy, our customers just can't believe that we would match their best offer AND give them $250. But it's true! If you get a higher offer of cash for cars in Dallas from a competitor, we will match that offer, and pay you $250.00 more.
We do have a few matching limitations:
The competitor's appraisal offer must be verifiable and in writing with mileage, VIN, and the date clearly stated.

The competing offer must be from a licensed company or dealership.

The competitor's offer must be to purchase your vehicle (trade-in offers may qualify; however, we reserve the right to review the full transaction details).

The competing offer must be dated within the last 7 days or less, and the mileage stated on the offer must not have exceeded 200 miles.

vOffer reserves the right to confirm all competing offers before honoring our best offer guarantee policy; forged or false appraisal offers will not be accepted.
If you're thinking, "I want to sell my car in Dallas," why not shop and compare offers, then present us with the competing offer and we will match it and pay you $250.00 more in cash for your vehicle.