Bullitt – 1968 Ford Mustang 390 GT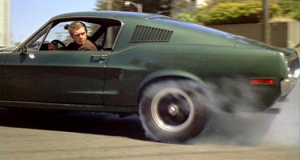 Since its release in 1968, Bullitt has unequivocally been rated the best Car Action Film by car enthusiasts (male and female), movie fans and critics alike.  The film stars Steve McQueen, a police officer intent on finding the gang boss responsible for the death of a witness placed in the witness protection program. McQueen isn't the only star in the film which featured the 1968 Ford Mustang 390 GT. Both McQueen and the 1968 390 GT defined cool (and still do). The car chase through the streets of San Francisco involving the Mustang and the 1968 Dodge Charger is still considered the most influential car chase in the history of film.
Mad Max – Ford XB Falcon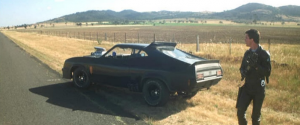 This Australian import catapulted Mel Gibson's career. Despite being produced on an indie budget, it features more high action car scenes than most the big-budget films of the time. In the film, Gibson drives a modified Ford XB Falcon. The car was manufactured and built exclusively by Ford Australia from 1973-1976. Despite being nearly impossible to find, the XB Falcon will live on in film history as one of the baddest cars ever.
The Italian Job – Mini Cooper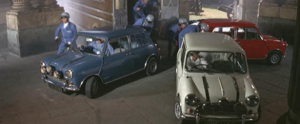 This is the original Italian Job film, not to be confused with the remake starring Mark Wahlberg. The film, starring Michael Caine, is best known for its infamous car chase scene involving a slew of Minis driven by the bad guys who are being chased by the police. The small nature of these cars lends way to excellent handling in confined spaces, a great combination for fast paced chase scenes. The remake of The Italian job features the updated Mini Cooper and includes its own spectacular chase scenes.
Vanishing Point – 1970 Dodge Challenger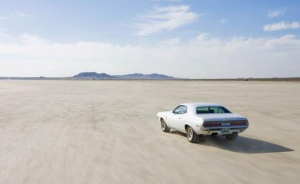 In this Film, Barry Newman plays Kowalski a delivery driver. His task is to deliver a 1970 Dodge Challenger from Denver to San Francisco. What really adds to the plot is the fact that Kowalski takes a bet that he can complete the trip in less than 15 hours. The main star of this movie however is the car; the 1970 Challenger is in almost every scene. Every car enthusiast should place this film on their list of the best car films ever made.
American Graffiti – 1932 Ford Coupe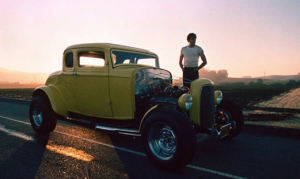 American Graffiti was co-written and directed by George Lucas, and released in August of 1973. The film gives insight into the lifestyle of cruising and rock and roll which was popular in the early 60′s. American Graffiti follows a group of teenagers over the course of one night, as they drag race and wreak havoc. For the car lover this film has grown to legendary status because of the classic cars depicted in the film. The 1932 Ford Coupe became the film's star for its hot rod look and yellow paint job. This film was nominated for an Academy Award for Best Picture.