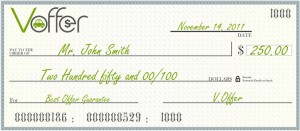 If you've browsed around our site a little you've probably seen something about Our Guarantee or our Best Offer Guarantee. What is it? How does it work?
Basically, we're so sure that our offer to buy your car will be the absolute best offer that you receive, we put money on it! That's right. Come to vOffer and let us know some of the basic information about your car, truck, or SUV (VIN, make, model, year, etc.). We will then make you a fabulous offer for your vehicle. There's no pressure to take the offer. In fact, we urge you to take some time and think about it. You can even go to some of our competitors and get an offer from them too.
Here's where our $250 Guarantee comes in to play. IF you get a better offer to sell your car, truck, or SUV to a competitor not only will we match that offer, but we will give you $250 on top of that. You really can't beat that. Not only will you benefit from the ease and convenience of selling your vehicle for cash to vOffer, but we'll give you $250 too! If you are selling a car in Dallas this is the way to go!
So now you're thinking, There's got to be more to it, right? Well just a few things. We do have a few matching limitations, and we reserve the right to confirm all outside competing offers before we give you your $250 it must be verifiable and in writing. Any appraisal offers we believe to be spurious will not be accepted. So in other words, we can't accept that appraisal from your Uncle Ernie. Appraisals written in crayon will also be denied (sorry, we don't accept crayon). The competitor's offer must also be dated within the last seven days or less, and the mileage stated on the appraisal must not have exceeded 200 miles. Aside from that fine print, our $250 Guarantee is pretty simple.
So what are you waiting for? Go ahead and get some other appraisals on your car, we'll wait. When you come back to vOffer we'll help you sell your car for cash in four fast and easy steps.