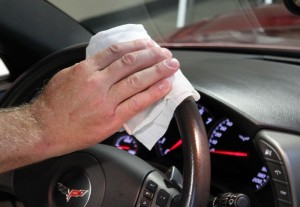 Looking to maximize profit on the sale of your used car? Wondering how to sell your car fast in today's market? With these tips on how to make your used car presentable, you can easily bump up the selling price of your vehicle and get the most cash for your car with minimal effort and costs. The key concept behind driving up the profitability of your used car sale is that for buyers, purchasing a car is not just a logical decision, it is also very much an emotional decision.
Even though certain aspects of the car such as mileage, fuel efficiency, and age are what truly determine your cars current value, the buyer's experience of the car is what influences how the buyer personally values the car and motivates him or her to take action. A car may look good on paper, but if it smells like dead fish and looks like it narrowly survived a Middle Eastern dust storm, there's no way you're going to sell it at the high price you desire. Optimizing the buyer experience of your car is a key factor in achieving your high profit goal.
The first step towards optimizing your car for sale is making sure the exterior is as clean and shiny as possible. Depending on the condition of your car, you may opt to clean it yourself or to get it professionally detailed. Generally, if the vehicle you're selling is in like-new condition, it's worth the extra money to get it professionally cleaned and detailed. After your car has been washed and waxed, make sure to focus on the wheels and rims, as these areas are often overlooked.
Once the exterior is spotless and shimmering, it's time to give attention to the interior; this includes cleaning all windows and surfaces with the appropriate cleaning products. If your car has leather seats, consider cleaning and conditioning them. Meticulously vacuum out the entire car, and make small repairs where necessary. The idea is to not only make the car as clean as possible, but to also make it look as shiny and new as possible. The scent of your car also plays an integral role in how the buyer will experience your car. Eliminate odors, and use an air freshener designed for vehicles. However, be sure to avoid strong scents, and opt for fresher, more subtle scents. After completing these steps, sit in your car and pretend to be the buyer; try to adopt a different perspective when evaluating your car, and see if you can think of any additional improvements that might affect the buyer experience.
Lastly, ensure that you have all of the service records for your car, and make them available to prospective buyers.  Buying a used car can be scary and overwhelming to some buyers, so be honest about your car and do everything you can to instill confidence in your potential buyers. Now that your car has been effectively prepared to sell, you can try your luck on used car websites, or you can contact vOffer, where you're guaranteed to get the highest offer! If you get a higher offer to sell your vehicle from a competitor, we will match it and pay you $250 more!