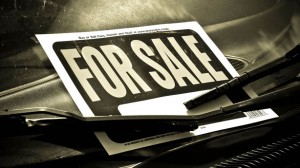 Taking the sale of your vehicle into your own hands can be both a challenging and overwhelming endeavor, one marked with either success or frustration. However, going into this endeavor with the right knowledge and strategy can effectively help you avoid frustration and help you sell your vehicle more quickly and at the right price. If you're looking to sell your car in Dallas, it can be tough to figure out exactly where and how to make it happen. With these basic tips, you will be well on your way to a successful sale.
Whether you're wondering how to sell a car in Dallas or in any other city, the first step is to do your homework. Learn everything you can about your car and the market for your car. This means knowing your car and all of its features and performance data well enough that you can converse with potential buyers with authority and confidence. Having a buyer who's better informed than you puts you at a disadvantage when it comes to haggling over the selling price.
Once you know enough about your car to talk to buyers, you need to formulate a list price for your car; determining this price involves research into the current market for used cars in Dallas and the market for your specific car make and model. Although the mileage and condition of your car are definitely the primary factors in determining your list price, be sure to consider what your car model is being listed for from other sellers in your area. Also consider how fast you want to sell your car; generally, the lower the price, the faster it will sell. Make sure your price is fair and competitive.
Now that you know your goal for the sale, it's time to figure out the medium you want to use. When selling a car in Dallas, the options are numerous. The oldest, but still relevant, method is to simply put for sale signs in the windows of your car and park it in a safe, high-traffic area. Make sure to include pricing and contact information on your signs. If you're interested in a more modern approach to selling your vehicle, look into online listings and local listings. These are great methods to get your offer out there where local buyers can see it and contact you. If you're a part of any social networks, you may want to notify your friends that you have a car for sale; this can be one of the easiest and fastest methods. If you're cautious, you can go to an auto broker to consign your car for you; however, there are fees involved. Used car dealerships are also a viable option. Cash for cars services can also be a very effective way to get a fair price for your car without all the hassle of other methods. If you've figured out your goals and what you're willing to sacrifice to achieve them, choosing how to sell your car shouldn't be difficult.
Once you've made your car visible to potential buyers, it's important to be patient. Oftentimes, selling at a high price means you'll have to wait longer. If the sale is taking longer than you desire, you'll need to reevaluate your list price and compromise on price to speed up the sale. Although selling your used car can be a challenge, if you follow these tips, you should be on your way to a successful sale.