All luxury carmakers seem to try and recreate BMW's 3 series. It's the benchmark in its class: a powerful luxury car that provides buyers with a comfortable, eco-friendly ride backed by speedy track times. The new 2014 IS has been redesigned to suit the public's desires, as well as lead the pack on the racetrack.
One of the most notable interior elements to the IS is the technology. The instrument cluster features a sliding metallic-trimmed bezel, which expands and retracts the digital screens. The LFA-inspired gauges in the IS F Sport model are truly one of a kind.
As far as performance, the IS 350 F Sport was Car and Driver's top pick over the BMW 335i M Sport and the Cadillac ATS 3.6. The redesigned steering system, added body rigidity, and an intuitive automatic transmission that holds the car in a lower gear through corners to maximize the response when accelerating out of the curve, the IS F Sport ups the ante on the racetrack.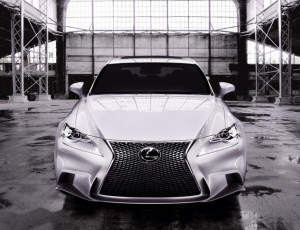 The IS is great for the track, but it also has to hold its place on leisurely neighborhood cruises. And Lexus's answer to this was Drive Mode Select. The Eco setting moderates throttle response and engine power output, and it also reduces other systems for lower power consumption. Sport S/S+ mode brings faster gear changes, more dynamic throttle mapping, and tightened suspension. Shift points are automatically altered while approaching and coming out of sharp corners to optimize acceleration. Normal mode is a balance of the two.
As one of the most compact cars of the Lexus lineup, only 486 were sold in 2012. It hits 60 miles per hour in 4.2 seconds, completes the quarter mile in 12.5 seconds, and tops out at 170 miles per hour. The powerful V8 engine churns out 417 horsepower at 6600 rpm, with 371 ft lbs of torque at 5200 rpm.
All in all, the Lexus IS is making waves in the land of luxury vehicles. For the speed demon or the smooth driver, this car has something for everyone. If you're looking to sell your car in Dallas to upgrade to a Lexus, vOffer is the place for you.