Here at vOffer, we are a one-stop shop to sell your car in Dallas. We get to see a lot of very nice, luxury vehicles. So you can imagine when Aston Martin announced the 2014 Vanquish we started drooling a little bit more.
You may or may not have known this, but Aston Martin is celebrating 100 years of quality car design this year. And with this celebration comes the 2014 Aston Martin Vanquish. The Vanquish is poised to be the new flagship model Grand Tourer from Aston Martin, according to Motor Trend, "which will supplant the DBS as its flagship coupe."
Based on the reviews we have seen of the new 2014 Vanquish, we wouldn't be surprised if the next James Bond film features the legendary British spy navigating curvy mountain roads and/or launching into firefights from the driver's seat in this sleek beauty.
All in all, it seems most reviews compliment the design of the 2014 Vanquish, considering the car a must-look-at for Aston Martin enthusiasts seeking a sleek look designed for luxury. Let's hear what some others had to say…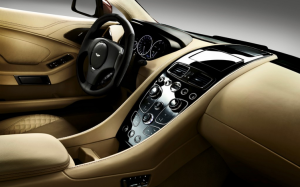 "For a buyer that prefers sleek styling and a luxurious look and feel over pure unadulterated muscle looks, the 2014 Aston Martin Vanquish is the way to go." – Justin Cupler, TopSpeed

"Aston Martin doesn't call the Vanquish a sports car but a 'super grand touring' machine, and it does indeed feel super grand[…]" – Kevin A. Wilson, Car and Driver

"From its general proportions to its exposed carbon elements (everything from the front splitter to the side mirrors and rear fascia is sporting a weave) to its One-77 inspired taillamps, it's so gorgeous that you can't help but take every raindrop that dares fall on its flanks a little personally." – Chris Paukert, Autoblog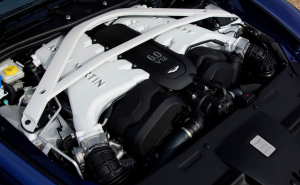 The 2014 Aston Martin Vanquish found a balance between engine performance and comfort ability. Its top speeds and off-the-line acceleration won't beat out what seems to be a close competitor, the Ferrari F12 Berlinetta. But the Vanquish improves on previous AM lines with a powerful 5.9L V12 engine, providing a 0-61 time of 4.2 seconds and topping out at 183 MPH, based on manufacturer statistics.
The Aston Martin brand has been sought after by many luxury car enthusiasts around the world and boasts a rich, marketable history. If navigating roads through stunning sceneries in the stylish 2014 Aston Martin Vanquish made it to your bucket list, then there's a very real way to make that dream become a reality.
We buy used cars for cash in Dallas, TX. Our unique, best offer guarantee will help you make the investment in your dream car today. No snake-oil salesmen. No outdated sales tricks. No hassle. vOffer is your best option to trade in your luxury vehicle for cash.
Maybe the 2014 Aston Martin Vanquish isn't your first choice… check out this spotlight of the month article from vOffer on the 2014 Lexus IS.