Whether you are currently in a lease, still owe money on your car, owe more than the vehicle is worth, or just want to sell your car for cash in Dallas, vOffer offers the easiest and most reliable way to sell your car.
Here's how it works:
Vehicle Information. You'll supply some basic information online about the vehicle like the VIN, year, make and model. There will be some simple questions about the overall condition of the car on a user-friendly online form. The best part is you won't have to spend any extra money washing or detailing the car. The experts at vOffer can recognize the value of the vehicle no matter the condition.
You get an offer. vOffer will process the information and make you a great offer, in writing, that is guaranteed to be the best price in Dallas.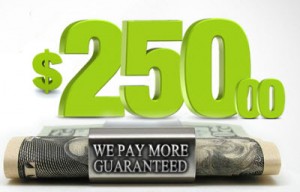 Accept and Validate. If the offer looks good to you, all you have to do next is accept it and follow the validation directions to redeem your offer in 7 days or 200 miles.
Paid on the spot. Drop off your vehicle along with the lien-free title and a valid driver's license and get paid on the spot. There are several locations in Dallas to make sure it's most convenient for you.
Just like that, you can sell your car for cash in Dallas. It's really that simple and the customer service is guaranteed to be top notch from the first time you get in touch with vOffer to the time you're leaving with cash in hand.