Once the decision has been made to sell a car, this list of last minute tips will help a seller sell a car for top dollar. Most buyers have a certain expectation when it comes to car shopping from private sellers, so for a seller, it is wise to be aware of those expectations and rise above them for a successful sale.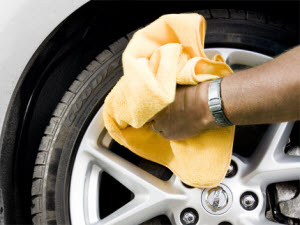 Like any sales process, a successful car sale is as much about presentation and the salesperson, as it is about the actual product. Buyers expect the car to be in tip top shape, cleaned inside and out, and have all the appropriate documents. This means that the seller has a big task on his or her plate if he or she hopes to sell a car for top dollar.
Sellers should try these last minute tips to make sure they receive the most for their cars:
1. Fix any damages: As much as anybody hates to admit it, cars get little dings, dents, scrapes and nicks all the time. If the damages are pretty drastic, a trip to a reliable auto body repair specialist is worthwhile, but if it's minimal, touch up paint can be used to finish off the appearance of a car.
2. Reliable walkthrough at the mechanic: Buyers want a car that can go another 100k miles without any major fixes. While that's not typically the case, sellers should still take the car to a reliable mechanic for a detailed walkthrough. If there are major repairs that should be made, sellers should pay for them if the selling price can offset the amount. If the cost is too high, sellers might want to consider other options besides selling. Or at least expect a lower amount. Fixing up a car before sale can be used as a selling point to ask for a little more money if it's in good condition.
3. Clean the car inside and out: For most sellers, this is a no brainer. But it's still worthy of a reminder. Sellers should go above and beyond buyers' expectations, whether that means paying out a little extra cash at a hand car wash facility for a thorough interior and exterior wash, or spending more time in the driveway wiping all the pieces down with Armor All and making sure the rims are spotless. A seller only gets one first impression, so he or she should make it count.
4. Complete detailed car history and all documents provided: Buyers typically want to know the detailed car history before purchase. Private sellers should take some extra time to collect receipts of car repairs to provide a detailed car history for a buyer. Also, the original keys and operators' manual is a bonus for a private buyer.
5. Be honest at the sale: Sellers should protect themselves at the time of sale. They should be honest about the car history and track the sale by keeping a copy of the bill of sale. They should also make sure the payment is accurate before the car changes hands. Sellers should also follow instructions on the title of the vehicle to make sure the transaction is done correctly.
These 5 last minute tips should help sellers make sure their transactions run smoothly. Plus, with the application of these steps, sellers can provide good reason to a buyer of the price they are asking for the car and trump most negotiations from the private buyer.