This Fourth of July, everyone will be munching on hot dogs, savoring apple pie, and watching nighttime fireworks displays. While this annual display of patriotism is great, many people want to show their patriotism by buying American cars. So when it comes to Chevrolet and Ford, which company do you go with? Here's the comparison between the 2012 Shelby GT 500 and the 2012 Corvette Grand Sport.
While Ford is its own company, and Chevy is owned by General Motors, both the Mustang and Corvette are staples in the American lifestyle. But like any good American product, they both needed some upgrades (think jumbo hot dogs and extravagant fireworks). Thus, the Shelby and Grand Sport were born.
Standard, the Shelby comes with a 5.4L V8 and a 6 speed manual transmission. It has 550 horsepower with rear wheel drive, like the Corvette. The power is supplemented by the aggressive and retro styling of the muscle car. The base model comes with stability and traction control, along with satellite radio and iPod input for the gadget fans. The Shelby can get to 60 miles per hour in 4.1 seconds, and eats up the quarter mile at 12.4 seconds, coming to a stop in 103 feet. It's a powerful car, but the power can come at a price: It's easy to get bogged down or throw smoke from the rear tires. The fuel economy isn't stellar either. Though the 15 city and 23 highway might be enough to avoid the Gas Guzzler Tax, it can be a tough pill to swallow for some drivers who use the car as a daily driver. Although, it does have the practical advantage of the back seat, something the Grand Sport lacks.
Corvette Grand Sport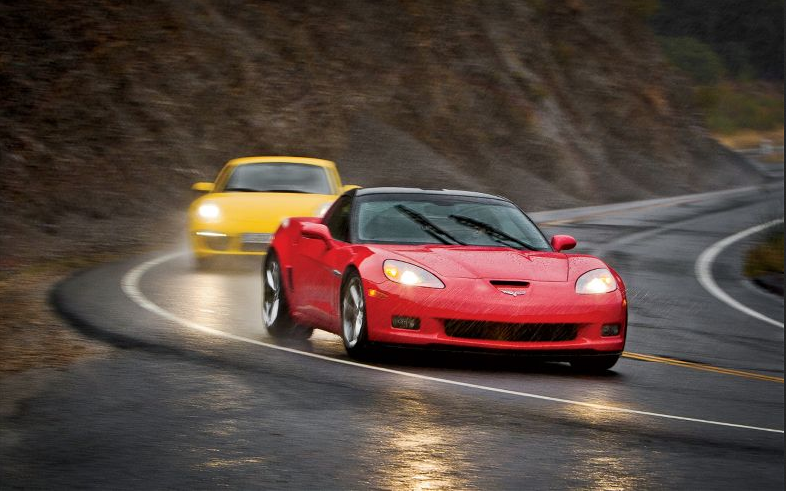 The Grand Sport may have less power than the Shelby, coming in at 430 horsepower, but it's also lighter. The Grand Sport has a curb weight of 3208 pounds, while the Shelby tips the scales at 3820 pounds. The rear wheel drive car comes with a standard 6.2L V8 engine and a 6 speed manual transmission. It has less pitch and better balance than the Shelby, thanks in part to the wider body and frame, along with a stiffer suspension. The Grand Sport beats the Shelby at the 0-60 test, racing up to 60 miles per hour in 3.95 seconds. But unfortunately, it's not that great of a daily driver. In addition to the low front end that routinely scrapes on driveways and gas station ramps, the added rigidity to the body and suspension that helps lap times on the track will make for a less plush ride than some drivers may be used to. The gas economy is comparable to that of the Shelby, though lacks the backseat some drivers may find necessary.
So which would you rather drive to the fireworks display this Fourth of July? The Shelby or the Grand Sport?